Tuesday from 19.00 to 20.30 from September to June
gym
Anton Giulio Barrili street 4/A, Torino
[tram 4 (Distretto Militare Stop), bus 14, 14/, 63]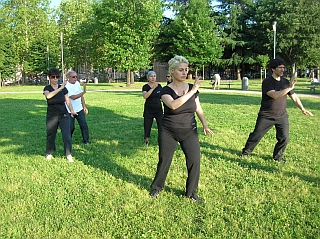 The program includes the study of the "shape of the 24 movements" (Yang style), of a "short form" (5 steps and 8 energies), an overview of other Taijiquan styles and Chinese interior styles and the learning of self-defense applications of Classical Taiji: (using 4 grams of force to move the force of 450 kilograms).
The lessons consist of an initial part that is the same for everyone and a part that is structured according to the level of individual learning. Therefore it is possible to start at any time of the year.
The course for beginners has an annual duration, on Tuesday, from September to June, consists of a weekly lesson, is suitable for people of any age and does not require prior preparation or training.
Thursday from 19.00 to 20.30
classic physical discipline footprint taught for the first time
at the Shaolin Monastery in China 1500 years ago from
Bodhidharma (Da Mo) - the founder of Chan Buddhism (Zen).